- Angantyr started as a synth/ambient project in 1997.
It quickly developed into a raw blackmetal band, and in 1998 the first demotape "Endeløs" was recorded.
"Endeløs" contains 5 tracks of ear-mutilating blackmetal.
- The debut CD "Kampen Fortsætter" was recorded in the year 2000.
The sound has improved, and the first song ever recorded "Stilhedens Larm" is included,
Along with a re-recording of "Da frostvind blæste" from the first demo.
- In 2001 The second demotape "Nordens Stolte Krigere" was recorded in a shed in the forest of Egebæksvang.
- In October 2002 the CD "Sejr" was recorded, and supposed to be released on "Inner Evil Productions" in 2003.
After I sent the Master-CD and artwork, I never heard from them again.
I then made a deal with Danish "BBSA" to release "Sejr" in 1000 copies in July 2004.
"Sejr" brings you 8 songs of harsh yet melodic Blackmetal, which includes 2 previously
unreleased songs originally recorded in 1999, but re-recorded for the "Sejr" album
- Northern Silence Productions has released both demos on 2x10" vinyl with a gatefold cover in december 2005
3 live members were found and 3 concerts were played in September 2006 while material for the album "Hævn" was written.
- "Hævn" was released in april 2007 by Det Germanske Folket, and 5 concerts was played in 2007.
- Northern Silence Productions released the Angantyr/Nasheim split album in September 2007.
- The first live lineup dissolved in October 2007.
- The second live lineup was presented at a special appearance in Grosserlach, Germany 12.09.09
- The fourth full-length album "Svig" was released by Northern Silence Productions in september 2010
Along with re-releases of the first 3 albums containing new albumcovers painted by Martin Hanford.
- In 2011 I was contacted by Pictonian Records to participate on "Önd - A Tribute To Enslaved"
I have proudly contributed to this album with a cover of the song "Eit Auga Til Mimir"
- The second live lineup dissolved in May 2012.
- The fifth full-lenght album "Forvist" was released by Northern Silence Productions on november 18 2012.
- The third live lineup has been assembled and Angantyr will be ready for liveshows again in 2013.

*Any Angantyr pages you might find on facebook are fake and created without my consent or permission.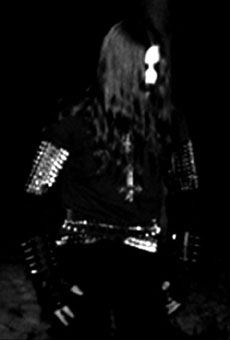 Ynleborgaz